Global manufacturer turns a profit without harming environment
Fri, 21 Apr 2017 09:33:00 BST
The Centre for Sustainable and Resilient Communities welcomed Purchasing Director Barry Townsend of global carpet tile manufacturers Interface to explain how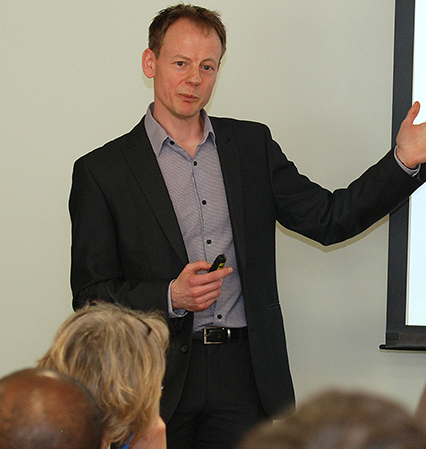 HOW can a business turn a profit and be completely carbon neutral? This was the topic covered by one of the directors of the world's largest and most sustainable carpet-tile manufacturer when he spoke at the University of Huddersfield.
Barry Townsend is the Purchasing Director for Europe, the Middle East and Africa for Interface. Based at their UK office in Shelf, near Halifax, he was invited by the University's Centre for Sustainable and Resilient Communities to talk about Mission Zero, Interface's promise to eliminate any negative impact the company may have on the environment by the year 2020. The talk was part of a series of lectures organised by the Centre which is based in the University of Huddersfield Business School.
‌Mission Zero arose after the company's founder, Ray Anderson, was asked to produce a speech for a seminar on how his company was helping the environment and he realised the company had nothing novel to say other than they comply with the law.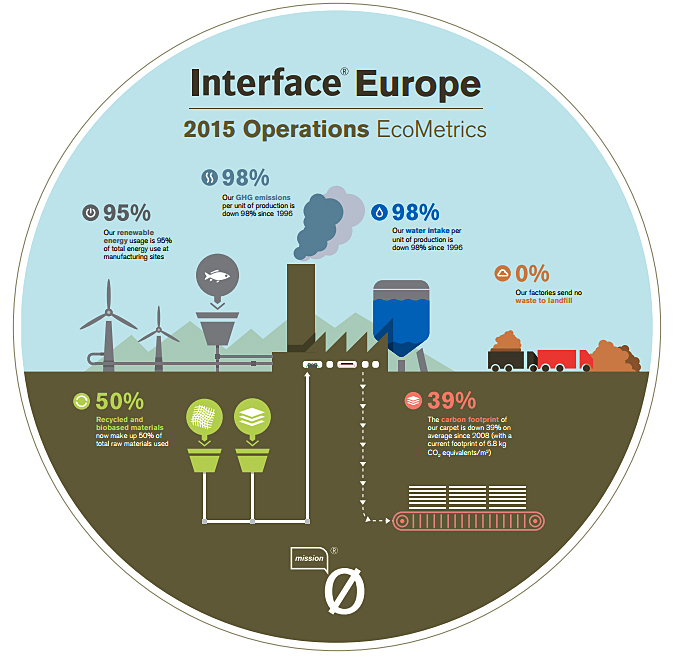 "Ray Anderson was a visionary of his time," said Mr Townsend and described how the Interface founder had had an epiphany moment after reading the book The Ecology of Commerce by Paul Hawken.
"He brought the whole team together and told them 'we're going to change the way we run the business'. Despite several of the senior executive having doubts, Mission Zero was born," said Mr Townsend.
‌He spoke about the company's 'Journey to Zero' and how, by using technology inspired by NASA, Interface has been able to dramatically reduce direct waste by installing a bespoke ultrasonic cutting machine.
"As a result, the amount of waste material produced when cutting our tiles was reduced by 80%," said Mr Townsend. "Annually, this equates to eliminating 310 tonnes of wasted material from the production of our carpet tiles alone," he said.
By reducing the amount of waste their factories now send no waste to landfill because anything that is leftover is recycled.
Interface, a multi-million pound profit making company, has also been able to dramatically cut its energy usage by creating a new pre-coat process which consumes 45% less gas per square metre than the older method and most of the gas they do use is biogas made from fish waste in The Netherlands.
The company also adopts an innovative approach to its use of yarn by recycling discarded fishing nets and making them into carpets, generating socio-economic benefits for the local coastal communities as well as environmental ones.
Ray Anderson died in 2011, but his dream of achieving Mission Zero is now well within reach. Interface now aims to take the process a stage further in becoming a restorative business, which means putting back more than is taken from the environment and from the community.